DJI Phantom 4 RTK SDK
£3,750.00 (+VAT)
Visionary Intelligence. Elevated Accuracy.
Upgrade your next mapping mission with the Phantom 4 RTK – DJI's most compact and accurate low altitude mapping solution.
---
Next Generation Mapping
DJI has rethought its drone technology from the ground-up, revolutionizing its systems to achieve a new standard for drone accuracy – offering Phantom 4 RTK customers centimetre-accurate data while requiring fewer ground control points.
---
Centimetre Level Positioning System
A new RTK module is integrated directly into the Phantom 4 RTK, providing real-time, centimetrelevel positioning data for improved absolute accuracy on image metadata. Sitting just beneath the RTK receiver is a redundant GNSS module, installed to maintain flight stability in signal-poor regions such as dense cities. Combining both modules, the Phantom 4 RTK is able to optimize flight safety while ensuring the most precise data is captured for complex surveying, mapping and inspection workflows.
Fit the Phantom 4 RTK to any workflow, with the ability to connect this positioning system to the DRTK 2 Mobile Station, NTRIP (Network Transport of RTCM via Internet Protocol) using a 4G dongle or WiFi hotspot, or store the satellite observation data to be used for Post Processed Kinematics (PPK).
---
Precise Imaging System
Capture the best image data with a 1-inch, 20 megapixel CMOS sensor. The mechanical shutter makes mapping missions or regular data capture seamless as the Phantom 4 RTK can move while taking pictures without the risk of rolling shutter blur. Due to the high resolution, the Phantom 4 RTK can achieve a Ground Sample Distance (GSD) of 2.74 cm at 100 meters flight altitude. To ensure each Phantom 4 RTK offers unparalleled accuracy, every single camera lens goes through a rigorous calibration process where radial and tangential lens distortions are measured. The distortion parameters gathered are saved into each image's metadata, letting post-processing software adjust uniquely for every user.
---
Built for Surveyors
Offering a range of control schemes and complimentary technologies, the DJI Phantom 4 RTK is developed to provide survey-grade results with greater efficiency than ever before Access a Variety of 3rd Party Applications Pilots with experience using 3rd party apps on DJI drones can access the world's leading drone app ecosystem for their Phantom 4 RTK with the SDK Remote Controller. Users can plug in a compatible Android or iOS device and install any compatible DJI Mobile SDK-enabled app to harness the full power of their Phantom 4 RTK.
---
What's in the box?
1 x Phantom 4 RTK – SDK
1 x SDK Remote Controller
4 x Propeller Pair
2 x Intelligent Flight Battery
1 x AC Power Adapter
1 x AC Power Cable
1 x Intelligent Flight Battery Charging Hub
1 x Gimbal Clamp
1 x 16GB MicroSD Card
1 x Micro USB Cable
1 x Carrying Case
---
Tech Spec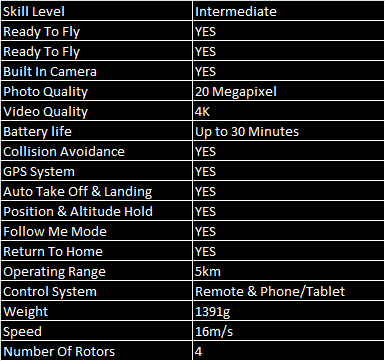 * please note third party phone or tablet (Not Provided) is required to fly drone via RC. Call to check compatibility with third party devises.